On form Smith powers to top independent position at tough Italian GP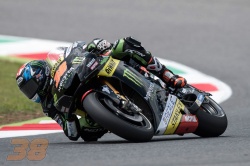 Posted on May 22, 2016 by Monster Yamaha Tech 3
Monster Yamaha Tech3 team rider Bradley Smith produced a strong showing to finish the round six battle at the meandering Mugello circuit in 7th place aboard the Yamaha YZR-M1. The British star undertook a superb start and shot from the head of the third row on the grid up to 3rd by the time he entered the first corner as he fought with the leading MotoGP bikes. He quickly stuck into his rhythm but got shuffled back yet remained composed and reignited his campaign to move back up the field by setting a series of consistent lap times. He reclaimed 8th at the midpoint of the race and continued to make advances forward with his target being the factory Suzuki of Aleix Espargaro who he slotted past on lap 15. The 25 year old powered onwards and comfortably opened a gap to the pursuing riders before speeding across the finish line only 13.340 seconds behind the leading bike. The result sees him successfully clinch a return to the top independent team position.
Bradley Smith: – Position: 7th – Championship: 12th – Points: 29
"I am very happy to finally be the top independent rider plus back to where I need to be. I worked on my starts all weekend and we did way more practice than usual but it looks like it paid off! I pulled down the left-hand side and as a result, I was third as we entered the first corner. Yet, to be really honest, I didn't have such a great pace at the beginning but I aimed to stay as close as possible to the guys in front plus not make any mistakes because I knew that my pace would be better later on. Therefore, I tried to look after the tyres as best as I could and remain consistent. All weekend we felt good and we modified the bike a little bit from Le Mans even though I was already pleased with the feeling. Thirteen seconds behind the leader at the end of the event is a strong result for us and shows that we have worked in the right direction. Petrucci tried to fight me in the last laps but I had a little bit left in the reserve tank so I just went for it in the final part. It has taken us until the sixth round to get to where we were last year, which is quite a long time but we have plenty more races to go to make up the points we lost at the start of the season. Altogether I wasn't as fast at adapting to the Michelin tyres when compared to some of the other riders, but we can see that we are getting there and I'm confident, plus looking forward to the next round."
Hervé Poncharal - Team Manager:
"What a weekend we have just had in Mugello. The conditions were ideal for racing and it really is a super feeling to see MotoGP getting more and more popular. The crowd was amazing and it goes without saying that this event was special. I am very happy to see Bradley back to where he was last year which is where he wants to be. He had a strong qualifying, plus a great race and he was the top independent rider both times, which means a lot. The gap to the winner in the GP was small and a lot less than what it used to be for us, which is also important. Brad managed to keep all the satellite Ducati's behind him which was not easy here and in the second part of the Grand Prix he was lapping very close to Viñales' times. Bradley did a top job and I want to thank him for this. On the other hand, I am really sorry and disappointed for Pol because he had a good pace as well as rhythm this weekend but he crashed twice when it was not necessary. In Q1 he was fast and could have easily made it into Qualifying 2 and seized a grid position on the second row. Still, today I think his start was not ideal but he showed what he could do as he was catching the group in front so he would have been quite close to Bradley but he unfortunately crashed again. He made too many mistakes during this weekend, but anyway I want to thank him because he picked the bike up and got a point. What I want at the next Grand Prix is for both of our riders to finish strongly, unlike the last two GP's. It would be fantastic for them to end up where they belong which for me is first and second in the independent classifications. Thanks to the whole team who worked hard and lets see what happens in Cataluña."