Tech3 push onwards in the desert on day 2 at Qatar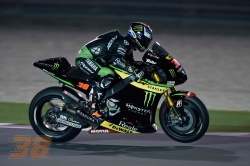 Posted on Mar 27, 2015 by Monster Yamaha Tech 3
Bradley Smith rode determinedly and gave his all before completing the challenging day in 16th position. The young Briton, who reaches the milestone of competing in 150 Grand Prix's in all classes this Sunday, opened the second day at the Losail International circuit by finishing in 9th in the second free practice.
In the afternoon Smith continued to push, yet was unfortunate in not being able to improve on his time set earlier in the day, which left him in 16th overall. Nevertheless, his best lap of 1'55.741 was just seven tenths from the top 5 and will see him compete in the Qualifying 1 session tomorrow. The 23 year old still remains positive and confident of seizing a strong result in the 22 lap race on Sunday.

Bradley Smith: - Position: 16th - Time: 1'55.741 - Laps: 16
"Of course, the end result today wasn't what we planned at all. To be honest, we were going really well in the first two runs in FP3 and I felt confident on the old tyres at the beginning. Then on the second run, we tried the hard compound and I was one of the fastest riders on this type of tyre. However, we then put the new medium on at the end of the session but it didn't work well and I couldn't improve my lap time. Yet, I can't be negative as the bike feels good and I am certain that if we make a few small modifications, we can improve tomorrow. Qualifying 1 will be tough, especially with the riders who will use the soft tyres, but I am convinced that it is still possible that we can do a good job. We have been competitive all weekend and we were just unlucky when it was time to do a time attack. These things happen, but I'm glad it was today and not tomorrow or Sunday. We'll stay positive, try to improve in a few small areas and then prepare for a fast lap in qualifying."