Tech3 Racing Team complete vital work in Valencia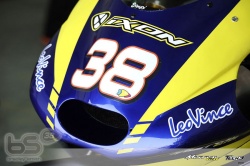 Posted on Feb 13, 2011 by Tech3 Racing
Tech3 Racing Team duo Bradley Smith and Mike di Meglio declared themselves satisfied with the start of their preparations for the 2011 Moto2 World Championship after completing a productive three-day test session at the Ricardo Tormo Circuit in Valencia.
Cool but sunny conditions throughout the test gave Smith and di Meglio the perfect opportunity to put in vital development miles on the new 2011 Mistral 610 machine that has undergone a major winter revamp in readiness for the new season.
The most significant modification to the new bike is an all-new chassis that both Smith and di Meglio were able to quickly adapt to and post competitive times as they completed nearly 350 laps together.
Although there was no official timing available at the test, di Meglio was credited with a fastest time of 1.36.6, the Frenchman completing over 150 laps to fully understand the potential of the Mistral 610 machine by evaluating a variety of settings.
Smith was one of the hardest workers on track as he completed almost 190-laps in his quest to familiarise himself more with the heavier and more powerful Moto2 machine. He made impressive progress throughout the test, the British rider knocking close to 1.5s off his best time compared to his Tech3 Racing Team debut in Valencia at the beginning of November.
The Tech3 Racing Team now moves quickly to the Estoril track in Portugal for a further three-day test session that begins on Tuesday (February 15).
Bradley Smith 1.37.3
"This test was very important and I learned a lot. It was my first time with the 2011 bike and we worked a lot on the geometry to find a good balance. It was hard work, but a great learning process as we tried many different solutions that helped me understand what happens to the bike when we make changes and how big the differences can be. It is scary that we only have six more days of testing until the season starts, but as we found a good direction with the bike in Valencia, I am confident. I improved my time by 1.4 seconds compared to November, so it shows that we did a very good job. I am happy with my team and we work together very well and I have to thank them for their efforts. Now we go straight to Estoril, but it looks like the weather forecast is not so positive. I hope we will have as much dry track time as possible to help us build on the progress we made in Valencia."