Terol and Smith third and fifth fastest respectively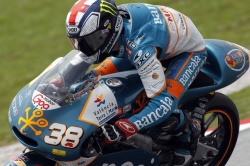 Posted on Oct 08, 2010 by Aspar Press
With barely enough time to rest and recover from their exertions in Japan just five days ago, the 125cc World Championship riders were back on track at Sepang today for the first day of the Malaysian Grand Prix. They were welcomed by ambient temperatures of 36º and 46% humidity, conditions that were no obstacle to the season's standout riders Nico Terol, Bradley Smith, Marc Márquez and Pol Espargaró, who dominated the session.

Just as they did in Japan a week ago Bancaja Aspar pair Nico Terol and Bradley Smith controlled the early stages although both suffered from rear grip issues that limited their progress. A dirty track surface led to more than the odd crash but Bradley stayed upright, making three pit stops to try and adapt his bike to the conditions, as did Nico, who made two. The Spaniard finished third overall, half a second off the fastest time, with the Brit in fifth.

5th Bradley Smith 2.15.479 (19 laps): "I started the session really well, I had a good feeling, but as the laps went by a few problems with the rear of the bike emerged and it was sliding around quite a lot. We tried to solve it by going for a harder tyre but it didn't work so now I need to sit down with my mechanics and make a decision over which way we go with the setting tomorrow. I am over a second off the fastest rider but I am not worried at this stage. My feeling with the bike is pretty good and I know we can make a step forward and improve tomorrow."