Third row for Smith in German GP E-Pole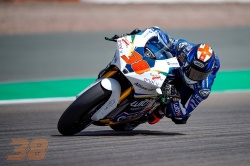 Posted on Jul 06, 2019 by One Energy Racing
ONE Energy Racing rider will start from seventh on the grid, following the MotoE class' first qualifying session.
Saturday at Sachsenring provided to be a difficult first-ever E-Pole session for Bradley Smith. The ONE Energy Racing rider will take off from the third row for the MotoE World Cup's first ever race, held tomorrow at the tricky German circuit.
Despite getting close to the lap time he set on Friday in the combined timesheets, Smith was unable to lower his times on the second day of action, and will start from seventh for the historic contest. The qualifying format featured a single lap for each participant, and the Brit was just under a tenth of a second from getting onto the second row with a time of 1min 28.858secs. He will need a fightback on race day in order to achieve his goal of fighting for a place on the podium.
The first MotoE World Cup race will take place over 8 laps, starting at 10am local time.

Bradley Smith:
"To be honest, this qualifying format is one of the toughest things for me, as it's about clocking just one fast lap. I was very close to my time from yesterday, and doing that with just one lap is positive, but it wasn't enough to get onto the two front rows of the grid. We're starting from seventh, just one place off our target, but the race is tomorrow and we have 8 laps in which to take a step forward.
We still need to make some adjustments to the bike for tomorrow, as well as getting a good start. The riders in front of us will try to go as fast as possible for the entire race, so we have to be prepared for that. I imagine that the race will be very tight, although everything depends on the start and the opening two laps. In an 8-lap race, you can't establish much of an advantage over your rivals, so I'm sure it will be exciting. We will try to get off the line well and be prepared to fight on the last lap."