Tough weekend for Smith in Jerez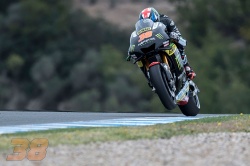 Posted on Apr 24, 2016 by Monster Yamaha Tech 3
​Bradley Smith gave his all today after a tricky qualifying campaign and he met the chequered flag in the race in 12th position. The young Briton launched from the middle of the fifth row of the grid and whilst muscling his way around the track, he was pushed back to 15th by the close of the first lap. However, he dug deep as he intended to rise through the field and by lap 10 he snatched 12th. His progress continued and he opened a gap to the pack behind before powering to the end in this position. The 25 year old will use the test day tomorrow at the Jerez circuit as an opportunity to improve so that he can repeat his 2015 form at Le Mans, the next round of the MotoGP World Championship.
Bradley Smith: – Position: 12th – Championship: 12th – Laps: 20
"Without a doubt it was a tough weekend for me but at least I got something out of it in terms of points, and I am determined to have a more successful time at the next round in France. In the race I had an ok start off the line but the Aprilias and Ducatis were really strong during the opening laps. Unfortunately I also lost some positions in the first lap due to contact with another rider so I ended up behind Hernandez and Bautista. I felt like it cost me some time following them, but with the lack of grip I experienced on the rear tyre, I could not push any harder at the beginning and already after ten laps I knew that I was in trouble. Therefore, I just tried to be as smooth as possible and reach the finish flag. The good thing is that we managed to improve my feeling with the front over the weekend and I felt more comfortable when compared to the previous races, so tomorrow in the test we will focus on trying to find a solution to the rear. However, saying that is very easy and this may not be the case in reality. Yet, we will work hard and take full advantage of tomorrow so that we can be strong in Le Mans like last year."
Hervé Poncharal - Team Manager:
"To be honest I have mixed feelings about this race. I, like most of the people, was expecting an incredible fight but at the end of the day it wasn't such an exciting Grand Prix. Yamaha demonstrated by claiming first and second, that in the hot conditions they have an incredible package. Regarding Bradley, it was another tough weekend for him, but just like in Austin and Argentina, he managed to better everything on race day. His start was not ideal but the pace, especially in the second part of the race, was constantly improving and he was getting closer to Pol and maybe with one more lap it would have been possible to pass Cal. Altogether it was a challenging weekend, and I think this year he is just not comfortable on the bike yet. However, Brad and Tech3 along with Yamaha plus Michelin all need to work together and I'm sure we will find some solutions so that he can show his true potential which we saw in 2015. Lets hope Le Mans will be the turning point of the season so that he can be fighting with Pol for the top independent position."