Trunkman's MotoGP – Interview with Bradley Smith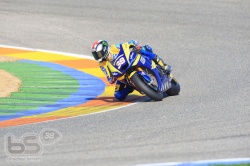 Posted on Feb 15, 2011 by George Penny
This interview was conducted prior to the Moto2 Valencia Test last week.
With the first official Moto2 tests underway Trent Burton took the chance to catch up with Brit rookie Bradley Smith about the coming season.
I don't remember what exactly I was nervous about in the months after I entered my twenties. Probably an exam or some girl at uni. Maybe a speeding ticket. Something utterly unremarkable at any rate. It certainly wasn't whether I might not run in the top three of a world motorcycle championship as rookie. But then, I'm not Bradley Smith.
In 2011 the Brit takes the leap out of 125s into Moto2 with the French Tech 3 outfit and talking to Bradley this week, just days before the first Moto2 test of 2011, there was the faintest hint of apprehension as he spoke of what 2011 holds. In 125cc since he was just 15 in 2006 he was a three time GP winner and championship runner up in 2009. He's yet to even try out his 2011 ride.
The Oxfordshire rider got his first taste of Moto2 in Valencia after the final GP of 2010 but he's not been on a race bike since then. Thursday will be his first time slinging a leg over the 2011 bike having tested the 2010 model back in November.
"Rather than knowing pretty much, that when we go back you can be inside the top three like it was in 125s, really it feels a little bit weird because I just don't know where I'm at so it'll be quite nice just to get that first day over and done with so you can an idea of the pecking order and where you sit."
What follows is a hectic schedule of testing before the opening round in Qatar with multiple days on track at Valencia once more, Estoril, Jerez and then finally Qatar.
"It's really a case of trying all these new things. I'm not really looking at lap times or anything, just a case of starting to feel comfortable on the 2011 bike. We've got a really good chance here to get real comfortable and used to the bike and then after that we'll know more where we're at and then we can start targeting things for that final test in Spain in March."
Personally I don't think it's unreasonable to expect they'll be targeting the very pointy end of the field. Once Smith got his hands on a good bike in 125s he was regularly on the podium, fighting for wins and getting them too. And in Moto2 he's landed with a top shelf team from the off at Tech3. They were race winners in 2010 with Yuki Takahashi and they've got a wealth of experience behind them.
The new team is a place Smith is looking forward to working within. It's a good family, he said. When we chatted he spoke of an already good relationship with team-mate Mike Demegglio with whom he's been under the Aspar banner for the past few years and there's plans to work together.
"We've already said we really need to work together as team-mates, especially in a category as close as Moto2. There's that 0.3 you can get from using someone as a reference that can boost you up five places. Obviously it's good to have (Xavier) Simeon in the garage as well. It gives us that third man data to help us with the development of the bike."
One of the key exciting prospects for Smith in Moto2 is that the Tech 3 team also run bikes in the premier class. MotoGP rider Colin Edwards even helped out by testing the Moto2 bike last year. It's an early foot in a door he's already making eyes for.
"I'm looking at this Moto2 project as a stepping stone to where I want to be. Time scale wise I don't know whether it's a one year, two year, three year thing but obviously my objective is to be in MotoGP one day and obviously at the moment I'm in the right place to do that with the Tech3 team."
I mean, Colin Edwards is saying this will be his final year in MotoGP which leaves a vacant seat in the garage down the other end of pit lane does it not? Where there's already a Brit rider on the other bike. But then, Colin has said he's going to retire at the end of the year every year since 1975. So let's not get ahead of ourselves.Smith continues, "That's a goal that's way out there at the moment. My realistic goals are just to get into the points and then starting pushing at the front of Moto2."
Everything about 2011 might be different but Smith's entering it confident, but not getting carried away. For one the world's top riders there's no hint of the big ego possessed by many of his rivals. He's calm, prepared and realistic about what lies ahead.
"From what I've felt with the bike already, I'm more than happy with it. I don't feel like we're starting in a wrong direction or anything like that. Obviously I have nothing to really compare it with, but compared to a 125 the bike still reacts quite user-friendly."
"So realistically the goal is to be Rookie of the Year. To be the best of the newcomers that's always a good target to have. And to score points in round one, in Qatar. At the end of the day they're my two goals for now until I can really sit down and have a look at where I'm at in the championship and whereabouts I can rank myself."
So while he himself might be playing it cool I'm going to be otherwise and suggest that by season's end Bradley will have a few more trophies for the ever growing cabinet.
http://www.trunkman.co.uk/motogp/