Unfortunate Race 1 for WithU GRT RNF MotoE Team at the Austrian GP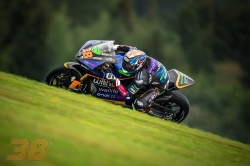 Posted on Aug 20, 2022 by WithU GRT RNF MotoE
On a tricky Friday with variable weather conditions at Red Bull Ring for the penultimate round of the FIM Enel MotoE World Cup 2022, WithU GRT RNF MotoE Team's Niccolò Canepa secured a second row start qualifying himself in sixth place, while Bradley Smith, who returned from injury just last time out in Assen, ended up in P16.
Both riders were hoping for a good performance on Austrian soil, with Race 1 prolonged from six to seven laps thanks to the new chiance after Turn 1 on sunny conditions. Canepa came off the line well, but unluckily after just one corner a rider crashed in front of him. The Italian could avoid him but lost positions due to the manoeuvre to find himself at the end of the field. Afterwards, he tried to score points but the rider #7 suffered a bike issue on the second lap, eventually being able to rejoin once again the track but one lap later Canepa was forced to retire due to a technical issue.
Meanwhile, Smith was eager to recover positions and acquire more track time on this year's FIM Enel MotoE World bike considering this was only his third start of the season. The Englishman had a decent getaway from sixth row, but in the Turn 1 chaos he crashed out and went immediately out of the race. After that, he went to the medical centre for a check to his left ankle and soon after he left the circuit to the hospital for futher scans.
Therefore, that was an unfortunate day for WithU GRT RNF MotoE Team riders, who luckily will have the chance to overcome misfortunes instantly tomorrow on the second race of the weekend, which is set for 15:30 local time in Austria.