Yamaha Factory Racing reigns at Suzuka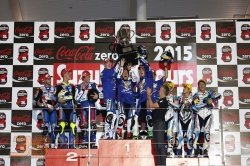 Posted on Jul 26, 2015 by Yamaha Factory Racing
The Yamaha Factory Racing Team went above and beyond all expectations today at the Suzuka Circuit, riding the new YZF-R1 to a phenomenal victory at the 38th "Coca-Cola Zero" Suzuka 8 Hours Endurance Road Race.
Riders Katsuyuki Nakasuga, Pol Espargaró and Bradley Smith gave an outstanding performance in the hottest and most challenging conditions of the weekend. It was the trio's unbreakable determination, team spirit and the stunning performance of the YZF-R1 that saw them overcome all obstacles and win Yamaha its first victory in this event in 19 years and its fifth in the race's history.
Losing a couple of positions from pole, first rider Nakasuga was quick to carve his way to the front as he chased down the race leaders. By lap three he had climbed up to sixth and kept the pressure on. He made his move as one by one the competitors went into the pits, showing the incredible potential of the YZF-R1 when he dropped a stunning 2'08.496s on his sixth lap, the fastest lap time of the race. Nakasuga was scheduled to come in after 25 laps but completed an extra two before heading in as the race leader and handing the YZF-R1 to Smith.
The British rider re-entered in third position, but soon moved up when the race leader crashed out of the race. Smith then had to deal with two separate safety car stints before finally taking the front a little more than two hours into the race.
It was then Espargarò's turn to take the YZF-R1 for a spin. The Spaniard had been consistently fast all weekend and didn't disappoint today. He and Nakasuga created a comfortable margin before it was time for Smith to ride again.
He was only able to complete a few laps before being called in for a 30 second 'Stop and Go' penalty for Espargaró having passed under a yellow flag.
The penalty cost them a position but it wasn't long before Smith was back in first place and building a healthy gap before handing the bike over to Espargaró for a second time.
He and Nakasuga gave their all in their final riding stints before handing over to Smith for the last leg. The Brit's final ride of the race was far from simple as a third safety car caused some last-minute tension. Smith was again able to manage the situation perfectly and rode his factory Yamaha YZF-R1 through the last corner to the deafening sound of cheering from the many thousand race fans as he took the chequered flag with a 1'17.411s advantage.
Reigning Endurance World Champions GMT94 Yamaha proved today that their strategy of focusing on
Besides the success of the Factory team, team R1 & YAMALUBE also gave Yamaha fans reasons to cheer. They crossed the finish line in 21st position, thereby coming out victorious the Superstock class.

Suzuka 8 Hours Endurance Road Race – 8H Race – RESULTS
1st - #21 – YAMAHA FACTORY RACING TEAM
(Nakasuga, Espargarò, Smith) – Yamaha YZF-R1 – Laps 204 – Total Time 8:00'29.708
2nd - #778 – F.C.C. TSR Honda
(Hook, Smith, Aegerter) – Honda CBR1000RR – Laps 204 - +1'17.411
3rd - #17 – Team KAGAYAMA
(Kagayama, Haga, Riyonary) – Suzuki GSX-R1000 – Laps 203 - +1lap
4th - #30 – Suzuki Endurance Racing Team
(Philippe, Delhalle, Masson) – Suzuki GSX-R1000 – Laps 202 - +2laps

5th - #12 – Yoshimura Suzuki Shell Advance
(Tsuda, Waters, Lowes) – Suzuki GSX-R1000 – Laps 201 - +3laps
6th - #94 – GMT94 YAMAHA

(Checa, Foray, Gines) – Yamaha YZF-R1 – Laps 201 - +3laps
7th – Honda Endurance Team
(Da Costa, Gimbert, Foray) – Honda CBR1000RR – Laps 201 - +3laps
8th – Honda Suzuka Racing Team
(Hiura, Kamei, Yasuda) – Honda CBR1000RR – Laps 200 - +4laps
9th - #87 – Team GREEN
(Yanagawa, Yudhistira, Watanabe) – Kawasaki ZX-10R – Laps 199 - +5laps
10th - #32 – MotoMap SUPPLY
(Konno, Aoki, Ogata) – Suzuki GSX-R1000 – Laps 199 - +5laps
…
21st – Team R1 & Yamalube
(Tokinaga, Fujiwara, De Vries) – Yamaha YZF-R1 – Laps 194 - +10laps


39th - #60 – Iwata Racing Family

(Nishimura, Sawamura, Manabe) – Yamaha YZF-R1 – Laps 184 - +20laps
DNF - #7 - Monster Energy Yamaha - YART - Yamaha YZF-R1


Bradley Smith - Yamaha Factory Racing Team Rider:
"Since Tuesday night I went back to my hotel room and felt loaded up with pressure. We stood in front of all the Yamaha staff and mister Kimura and everyone who works inside the factory. We stood on the stage in Iwata and promised that we would come back and give our best and we promised them a first place and we definitely to potentially fail, but we had a great bike and teammates. We had only one small mistake during the race, which in the end was no problem at all. With the speed and the pace that my teammates were able to do, we were able to overcome it. It's very special, the 60th anniversary for Yamaha, they are leading the MotoGP championship, but second to that was a focus to on the Suzuka8H and I'm glad that we were able to show the true potential of this bike and give them that victory after 19 years that they very well deserve."

Wataru Yoshikawa:
"First, I just want to thank everyone involved and all of the fans who cheered us on. I have to say that I was really impressed by the high level of the MotoGP riders, and also I found myself full of admiration once again for Nakasuga's skills. Pol and Bradley had never ridden at Suzuka before our pre-race test sessions, and they had never ridden on an Endurance spec machine. But, in no time at all, they were running very fast lap times here, one after another. Also, in today's race we were surprised to see the impeccable skill with which Nakasuga handled the bike in the first stint and extend it all the way to the 28th lap. That made things easier for us as a team from that point onward. The way the characters of the three riders came together so well made this a wonderful team, and the team staff did their best the whole time to back up the riders. During the race weekend there were accidents like Pol's crash, and then in the race there was his penalty, so there were difficulties along the way but we still managed to win. This was a victory that the whole team won together, and once again I want to express my appreciation to al of the people who cheered us on.