Yamaha Factory Racing strikes with sensational record Suzuka pole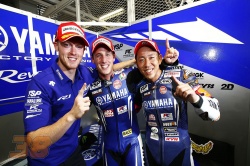 Posted on Jul 25, 2015 by Yamaha Factory Racing
The Yamaha Factory Racing Team blew away the competition today with a stunning 2'06.000 lap on the YZF-R1 around the 5807m long Suzuka Circuit to claim a superb pole position for the 38th "Coca-Cola Zero" Suzuka 8 Hours Endurance Road Race.
Hot and sweaty weather and a slippery track set the scene for the third day of action at the legendary eight hours endurance race weekend. Riders Katsuyuki Nakasuga, Pol Espargaró and Bradley Smith looked competitive during the morning Free Practice session, setting the second fastest time with a 2'08.074s, but didn't take any risks as the real challenge was yet to come.
The chosen riders for the pole position shoot-out Nakasuga and Espargaró stunned the Suzuka crowd in the afternoon's 8H Top10 Trial. During this session two riders per team are allowed to ride one flying lap each around the technically challenging Suzuka Circuit to fight for pole position.
Espargaró was the first YFTR rider to hit the clear track and set a hot lap. The Spaniard pushed to the absolute limit, using all his MotoGP experience to set a stunning 2'06.000 lap for provisional pole, which at the time was 1.697s faster than anyone so far.
Then it was local Yamaha hero Nakasuga's turn to step aboard the YZF-R1. The experienced Japanese rider rode smoothly and aggressively through the twisty section, taking full advantage of the performance of Yamaha's class leading Superbike to finish with an impressive lap just 0.059s off his teammate.
As none of the competitors were able to drop under the 2'06.2 mark, Espargaró's incredible 2'06.000 becomes the new Endurance fastest lap at Suzuka, more than six-tenths of a second faster than the previous Endurance Pole Record.
Today's results see the Yamaha Factory Racing Team on pole position for tomorrow's race, which will start at 11:30AM, local time.

Bradley Smith - Yamaha Factory Racing Team Rider:
"First of all a big congratulations to my teammate, at the end of the day our team management made the right call with who they choose for the Superpole, both guys were riding extremely fast. I'm happy to be starting the race from first position tomorrow for the team, but it's a bit different to do one lap compared to more than 200 in tomorrow's race. I hope we get a good night sleep, calm down from the excitement and be ready to do it all again tomorrow."