Bradley's Blog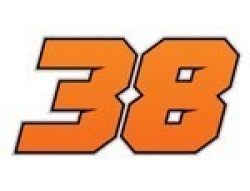 Posted on Apr 14, 2016 by George Penny
​I'm coming back to Europe after the opening three races confident we are back in a strong position with 15 chances to make up for the no points in Austin. I'd had 26 consecutive grand prix finishes and so it was disappointing but I've had my fair share of luck in those races. I'll take it on the chin and use it for motivation for the rest of the season.
The new situation with tyres and electronics has been difficult but when you are struggling it makes it an awful lot worse. Turning up at different race tracks with different tyres available trying to figure out what seems to work.
Pre-season I didn't feel too bad, but once I got to the actual races we realised we were going in the wrong direction and we got caught out. At the opening round in Qatar I was pretty pleased and felt it was a solid way to get points in the first race although there was something missing. Argentina was one big struggle throughout and I soon realised after a few lap in Austin we were just putting sticky plasters over the problems and actually surgery was needed to stop us chasing our backside all year.
I already felt in Argentina were lost and after the first two practice runs in Austin I knew the moment had come to start again. Normally I can put 10 laps together even if the setting is not good, but in Austin I thought oh my god something is seriously wrong. Initially we kept one bike in the old configuration and went off in a new adventure with the number one machine. We stuck with it although it was difficult at the start and the team needed some persuading from me. It great to see their happy faces after topping qualifying one when I came back in because they had realised we were in a very difficult situation. I'm the only one riding the bike and knowing how and what I feel and was determined to keep pushing forward with the new plan.
It was blind faith from the team because if you look at the settings we are now using its very different to what we have ever seen on the Yamaha M1. It's great to have that support from your crew and important that we have worked so closely over the last three years and especially with the announcement I'm leaving them to join KTM next year. It would have been very easy for the team to start pointing fingers at me but they never once even mumbled and kept complete faith to do the right thing for me. We are on the comeback trail.
My move to KTM next year came as a shock to some people but KTM rather like myself do their work behind closed doors and don't wash their laundry in public. They are very serious individuals who have a clear plan are very motivated. Very few people knew and after initial talks we had a meeting in Austria after which I decided I wanted to be involved with them. I have not seen the bikes performance but I know looking at their amazing record and knowing people working inside the project that it will be brilliant to be involved right from the start. The first 12 months will be tough but we need to start putting KTM where they belong. Just look what they have achieved and they are one of the top manufacturers in the world. It's a big responsibility on my shoulders but I'm going to so enjoy the whole project.
I have such a great relationship with Tech3 Yamaha which no way will be affected by my KTM move. I always trying to build a relationship with people and they know I will be totally loyal to the very last day with them. They know I will not give up until the last minute. Austin was prime example, picking myself out of the gravel, two seconds of a lap down but carrying on to represent the team and our sponsors as a payback for everything they've put into me during the last three years. I'm here to finish the job and be the top satellite rider.
It was a brave move to start again in Austin with a completely different motorcycle scrapping everything we'd planned in the winter. Almost straight away it started to look more positive up until the race itself. In qualifying we found something and that continued in the morning warm up. In the race we were going in the right direction until turn 11 when I was slightly off line at turn 11 and I followed Cal (Crutchlow) into the gravel which was such a shame. His crash did spook me a bit and I released the brake and ran over the same patch as him and went down. There had been a couple of blow ups in the American Superbike race the previous day and there could have been something on the track. I did soldier on without a gear lever and with the electronics not working in the right way but it would have hurt me a lot more to sit in the garage and not learn anything. The plan was to get three points scoring finishes at the first three races and we were close. We have done nothing but defend and have not been in an attacking position and I'm sat 12 points behind my team-mate but I feel I'm back riding the motorcycle I like and enjoy.