Dewalt Action Day 2013 Gallery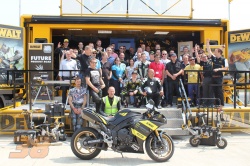 Posted on Jul 31, 2013 by George Penny
Bradley was invited by Tech 3 team sponsor Dewalt, to the launch of a new range of power tools hosted at the wing facility/silverstone circuit.
The day was held by Dewalt to entertain clients, competition winners and showcase new products with a lucky few having the experience of a pillion ride with one of their sponsored riders – Tech 3 rider, Bradley Smith.

Photos courtesy of ©Fast Bikes Magazine & ©Ironmate/Mark Kleanthous
You can visit the gallery here.