ONE Energy Racing and Bradley Smith start new MotoE era on the right foot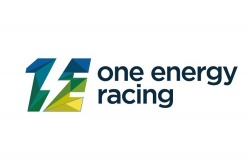 Posted on Nov 23, 2018 by One Energy Racing
British rider finishes first day of testing new electric bikes with the fourth fastest time at Jerez Circuit – Angel Nieto, where the MotoE World Cup riders completed their first day of the 2019 preseason.
A new and exciting era in the history of motorcycle racing began today at the Jerez Circuit – Angel Nieto, where the first ever test for the MotoE World Cup took place. The ONE Energy Racing Team and Bradley Smith, who embark together on this exciting new adventure with electric bikes, today completed their first laps with the Energica Ego Corsa machine – The British rider enjoying a positive first day of three, finishing in fourth position.
The day was split into three 30-minute sessions, the first one taking place in wet conditions after overnight rain at Jerez, with Smith setting the early pace. In the other two sessions the ONE Energy Racing rider continued to build his feeling with the bike and understanding with the team, as they worked together on a completely new bike to them all. Smith concluded the day in fourth place with a best time of 1'52.339 after a total of 27 laps on Friday.
Bradley Smith will be back on track for three more sessions tomorrow as the rider and team continue to get to grips with the demands and capabilities of MotoE.

Matteo Ballarin - Team Owner:
"The first day has been very positive. We have a good team that has been able to gather a lot of important information today and has worked well overall. The relationship with Bradley [Smith] is fantastic and the results are already good for what is only the first day. We still have a lot of things to discover about this new category but also a lot of things to achieve."

Phil Stiles - Crew Chief:
"The first day of the test went pretty well, we gathered some interesting information. Today, in the wet session and the dry ones, we allowed Bradley [Smith] to get a feeling without changing too much from the base set-up so that we can best understand the feedback he is giving us. It is good because he knows exactly what he wants from the bike and how to achieve it, so working with him is very easy. We already have an idea of what we want to work on tomorrow, how to improve his position on the bike and refining as much as we can."

Bradley Smith:
"I am happy to have completed my first laps on the MotoE bike. The first session was in the wet, so it was a good opportunity to compare it to the feeling in the dry conditions that we had later. I am positively surprised with the handling of the bike and the way it has performed here at Jerez. We have to work out which steps we need to take to improve everything and evaluate the result of each step. So far everything we have seen has been positive; now we need to analyse the work we have done on this first day and make a plan for tomorrow. We were in the top three for the majority of the day, now we have to work out a way to be the fastest, which is the objective."