Rating The Riders: Bradley Smith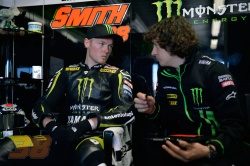 Posted on Jan 10, 2014 by George Penny
Bradley Smith: Monster Tech 3 Yamaha
Championship position: 10th
Score: 8/10
Pity poor Bradley Smith. The young Englishman came in to MotoGP as a rookie, and did exactly what he was supposed to do: learn slowly, not crash too much, see his times and results improve gradually throughout the season. In any other year, Smith would have received quiet praise for the steady job he did.
But this was not any other year. This was the year that Marc Marquez moved up to MotoGP, destroying records and utterly redefining what is expected of a rookie. While Smith was steadily improving to go from finishing in the top ten to ending in the top six, Marquez was amassing podiums, wins, and well on his way to taking the title at the first attempt. Smith found himself being compared to the phenomenon that was Marquez, rather than the more realistic comparison with the rookie seasons of other MotoGP riders.
Take Marquez out of the equation - an almost impossible exercise, admittedly - and Smith looks a lot better. Map Smith's season against that of Stefan Bradl in 2012, and the Englishman's performance looks much better. Smith finished his year with 116 points, while Bradl took 135 in his first year. Bradl's point tally was boosted a little by Casey Stoner's absence through injury, and the dismal season Ben Spies had on the factory Yamaha. Smith finished more races in his rookie year than Bradl did, but when he did crash, he badly injured his hand, fracturing his wrist and destroying his little finger.
Smith's biggest challenge was changing his style around completely. He had to unlearn the habits picked up in Moto2, of pushing hard, braking late, throwing the bike around. Instead, he had to concentrate on being smooth, braking earlier, releasing the brakes earlier, and relaxing. The more he learned to relax, he would tell reporters, the faster he would go. However, trying to relax and be smooth is one of the hardest things to do on a 260hp motorcycle capable of of 350 km/h with a body full of adrenaline.
Smith spent the first half of the season just getting to grips with the bike. In the second half, things improved, Smith's intelligence shining through, his ability to analyze problems a great asset for the team. Sometimes, that meant one step forward and two steps back, such as at Brno, where Smith was excellent throughout practice, only to find himself crashing out of the race. But by the end of the season, Smith proved himself capable of matching the pace of the satellite Hondas, finally shaking off his season-long battles with the Ducatis.
Smith spent 2013 riding the bike raced by Jorge Lorenzo in 2012, receiving few updates during the year. That is the fate of a satellite rider, and he accepted it with good grace. In 2014, Smith will have the same equipment as his teammate Pol Espargaro, and have support very close to factory level. Then we will see what his potential truly is.
High point:
If the middle part of Bradley Smith's season was a little frustrating, it ended on a much more positive note. Smith rode confidently, his understanding of the bike greatly improved, as well as his ability to set it up and get it to do what he wanted. There was not really a single moment in Smith's season you can point to and say, that was his best moment. But the upward momentum and real forward progress gave him the boost he was chasing.
Low point:
The first part of the season would be tough for Bradley Smith. The inevitable (and slightly unfair) comparisons with Marc Marquez meant he faced a lot of criticism from his home fans. An ugly crash at Mugello saw him crack his wrist and badly mangle the little finger on his left hand. The skin graft didn't not take particularly well, and then rumors emerged that Smith could be forced out of his contract with Tech 3 to make way for Pol Espargaro and Cal Crutchlow. Once Crutchlow left for Ducati, Smith's seat was safe, but all in all, it was a tough couple of months for the English rookie.

By David Emmett / motomatters.com