Smith heads for surgery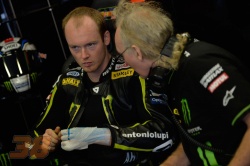 Posted on Jun 18, 2013 by Monster Yamaha Tech 3
Monster Yamaha Tech 3 Team rider Bradley Smith finished a one-day test at the Circuit de Catalunya inside the top 10, the British rider was satisfied with progress made in hot conditions.
Smith was able to test for a two-hour stint this morning, the British rider completed 25 laps as he too evaluated front-end modifications to improve his pace with a full fuel tank.
The 22-year-old set a best time of 1.43.180 but cut short his day at noon to make the short trip to the USP Institut Universitari Dexeus of Barcelona where he was due to undergo a double operation on his left hand and wrist this evening.
Smith suffered a broken scaphoid bone in his left wrist and extensive damage to his left little finger when he crashed heavily during practice for the recent Italian MotoGP round at Mugello.He bravely rode to a career best sixth position in yesterday's Gran Premi Aperol de Cataluna, but the considerable pain and discomfort from both injuries resulted in a decision to undergo surgery as quickly as possible.
A screw was due to be inserted to stabilise the scaphoid and a skin graft carried out to repair the open wound on his little finger. Dr Xavier Mir, Head of the Hand Surgery Unit of the Orthopaedics Department of the USP Institut Universitari Dexeus, will supervise the double procedure.

Bradley Smith 10th 1.43.180 – 25 laps
"The main focus of today was to try a few different settings for the front, especially to help at the beginning of the race with a full fuel load. We seem to have a good pace after the first eight laps so we need to improve before that. I wouldn't say we found anything better but we found some ideas to try in the future and also give us some feedback on what works for my style. It is nice that we have been able to test because after six races I have more of an understanding of the bike, so I can give better feedback of what I like and don't like. My lap time was pretty decent and I was quite surprised so it was a positive day. Now I am ready for the skin graft and to get a screw in the scaphoid. I can ride no problem and the lap time is not too bad but if I am going to go to Sachsenring and Laguna Seca, which are dominated by left-handers, then I need to do something with this wrist. It wasn't great today and I wouldn't want to be doing another race. When you are in a situation like this it is better to get it fixed. Now we have to completely immobilize it to race, so at least when that bone is stable it should be pain free."