Tech3 riders snap at the heels of the factory bikes in Indianapolis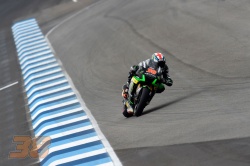 Posted on Aug 10, 2014 by Monster Yamaha Tech 3
Bradley Smith bounced back from a fall yesterday where he damaged his finger to show resilience and scoop a top points scoring finish in 6th. The 23 year old began the 27 lap sprint around the 4170 metre Indianapolis circuit from 9th position on the grid before launching himself up to 8th at the first corner and into the mix with the factory bikes for the first lap. Smith was shuffled down into 10th place by the end of the opening lap, but his gutless determination prevailed as he set into a forceful rhythm moving up to 7th with twelve laps to ride.
His formidable race pace saw him running 1'33 laps at the midpoint of the race and as Smith powered onwards, he closed in on Factory Ducati rider Andrea Dovizioso on the penultimate lap. The British star successfully overtook him to bring his Monster Yamaha Tech3 YZR-M1 across the line in 6th, concluding an impressive ride and lifting him to 9th in the championship.

Bradley Smith: Race: 6th – Championship: 9th – Points: 58
"Overall, I am really pleased to get a strong result and finish in the top 6, although I was maybe a bit too cautious at the beginning with the hot conditions here causing the front wheel to tuck an awful lot. However, I remained calm and remembered how long the 27 laps are, so I aimed to preserve my rear tyre as much as possible and then came back strongly during the second half of the race. In fact, around the mid section of the sprint, I put my head down and lapped mid 1'33's as I was chasing after Pol and Andrea Dovizioso, who I overtook with just 2 laps to go. Obviously, it was a big confidence boost to see the finish flag finally in such a good position which is where I want and need to be. Now I'm looking forward to the next race in Brno where I will try to continue to climb up the rankings."
Hervé Poncharal - Team Manager:
"Overall, it was a great race for us today and I am very happy with the results. This morning we were a bit uncertain and concerned about what the weather would be like especially after what had happened in the last two races but luckily it remained dry. It was a very exciting albeit chaotic beginning to the 27 lap race however when everyone settled down. Bradley had an exceptional race considering his massive crash yesterday and the state of his finger but he rode like a real champion so I am very proud of him. The next challenge is already around the corner and we are ready to battle for top results once again in Brno in a couple of days."